But this oasis is under attack — from spec developers and illegal construction, from fires and floods, and from tree clearance, fence building and hillside retaining walls. The balance of natural vegetation and modest home size that gave our community its original character is threatened. Only by working together can we put brakes on the forces that could turn 'paradise into a parking lot'.
This is the goal of your Laurel Canyon Association and of this website — to inform, so you can be a more knowledgeable and involved community member.
Welcome to your Laurel Canyon Association.
Laurel Canyon Description
The Laurel Canyon community includes Laurel Canyon Boulevard, its feeder streets and the Kirkwood, Stanley Hills, Lookout Mountain and Wonderland bowl areas. The neighborhood is bounded on the north by Mulholland Boulevard and at the south by Hollywood Boulevard. Included in this area are the two HOA groups of Laurel Hills and Wonderland Park.
The main streets are Laurel Canyon Boulevard, Mulholland Drive, Wonderland Avenue, Lookout Mountain Avenue, Kirkwood, and Stanley Hills. One of the area's highest points is the peak behind the Mulholland Tennis Club. At approximately 1300 feet, it offers a commanding view of the San Gabriel Mountains, the LA basin and the Pacific Ocean beyond.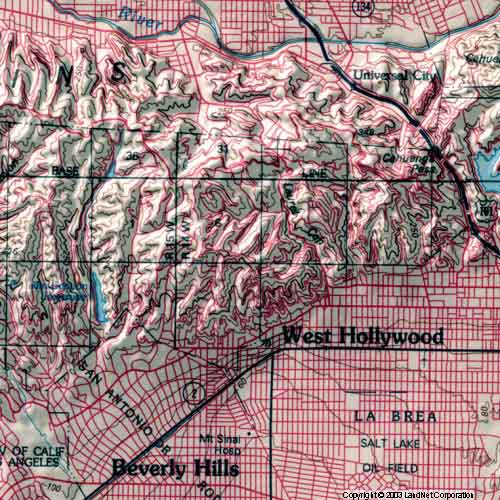 Above: A Bureau of Land Management topomap showing the Santa Monica Mountains between West Hollywood and the San Fernando Valley.
Above: Map showing roads in the Laurel Canyon area courtesy MapQuest.
So, what is it about Laurel Canyon that makes it special?
Our neighborhood is a wooded community with large tracks of undeveloped hillside. It's grown piecemeal with no particular vision or master plan, which is part of the charm. It may be a more dangerous place to live in terms of fire, but most of our residents prefer the narrower streets, the trees and the modest sized homes that make our neighborhood different. The Laurel Canyon Association is your voice in maintaining this special difference.
Laurel Canyon Association Bylaws
In 1999, the Laurel Canyon Association merged with two previous community groups, the Lookout Mountain Neighborhood Association and the Laurel Canyon Association. The LCA has also become part of the Los Angeles Neighborhood Council system and is associated with the Bel Air / Beverly Crest Neighborhood Council (BABCNC) for this purpose.
The goal of our community group is:
To promote the welfare of the residents of Laurel Canyon and to maintain the quality of life in the Hills, by preserving its residential character, its quiet, privacy, natural beauty and safety;
To encourage cooperation among all residents within the jurisdiction;
To educate appropriate governmental bodies concerning changes in existing or proposed laws affecting Laurel Canyon or in anything that affects this jurisdiction.
Laurel Canyon Association
Phone: 323-908-1909
Fax: 323-656-4323
Email: president@laurelcanyon.org
URL: www.LaurelCanyon.org
For information, errors or problems with the LCA website, contact:
Website Editor: Rick Seireeni
Email: webmaster@laurelcanyon.org
Becoming A Member
Live in the canyon? Wanna join? It's simple.
Send a check for $25 for your first year's dues to:
Laurel Canyon Association c/o John Harris, Treasurer
2478 Crest View Drive, Los Angeles, CA 90046.
Include your name, address, phone number and, optionally, your email address.
That's it. You're now a member.
Joining The Email Notification Program
Your Laurel Canyon Association has created an email notification program to keep you abreast of timely information and news concerning quality of life issues in Laurel Canyon. Please join. Your information will not be shared with others.
To add your name to the list, please send an email with "Sign Me Up For The LCA Email Forum" in the subject line to: webmaster@laurelcanyon.org.
Back to the Top