Emergency & Other Urgent Information
All Emergencies: 911
Remember: Use 911 for all emergencies.
Use the numbers listed below for non-emergency situations.
Police (non-emergency)
Los Angeles Police Department, Hollywood Division
1358 N. Wilcox Avenue, between Sunset Blvd and Fountain Ave.
Hollywood CA 90028
Emergency: 911
Non-Emergency Front Desk: 213-972-2971
LAPD: www.lapdonline.org
Hollywood Division: http://www.lapdonline.org/hollywood_community_police_station
The unit patrolling our area is called, Basic Car 6A31
Senior Lead Officer Raul Sanchez
Phone: 213/485-4316, Mobile: 213-793-0704
Email: 16893@lapd.lacity.org
Basic Car District Coordinator Sergeant Harris
Cellular: 213-509-3561
Dated 7/11/12: Officer Sanchez is currently away from the office recovering from a medical injury. During this time should you have any concerns or questions relating to Basic Car 6A31 please contact Officer Nicole Montgomery at 36019@lapd.lacity.org or you may reach her at (213) 793-0704 or (213) 485-4316.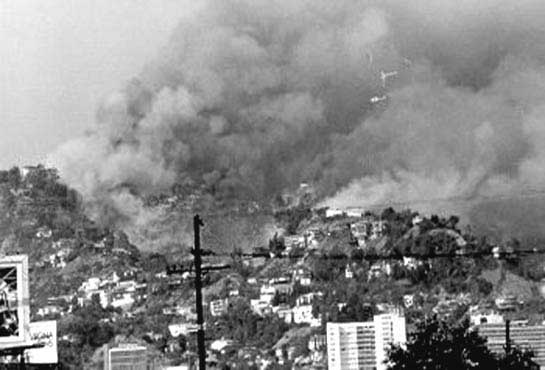 The 1979 Kirkwood Bowl Fire should be a warning to us all. If you see someone smoking illegally in the canyon, report their license plate number to 213-485-4302, Hollywood Division LAPD. Photo from the LA Times.
Fire & Paramedics (non-emergency)
Los Angeles Fire Department, Fire Station 97
8021 Mulholland Drive
Los Angeles CA 90046-1128
Emergency: 911
Non-Emergency Business Phone: (818) 756-8697
www.lafd.org
Emergency Hospitals
Ambulance, call 911
Cedars-Sinai Medical Center
Ruth and Harry Roman Emergency Department
Level 1 and Pediatric Critical Care
8700 Beverly Blvd., Los Angeles, CA 90048
Emergency: 911
Non-Emergency: 310-423-8780
www.csmc.edu/emergencyservices
Ronald Reagan UCLA Emergency Room
601 Westwood Plaza, Los Angeles, CA 90095
Los Angeles, CA 90095-3075
Emergency: 911
Non-Emergency: 310-825-2111
www.mednet.ucla.edu
Sherman Oaks Hospital
4929 Van Nuys Boulevard
Sherman Oaks, California 91403
Emergency: 911
Non-Emergency: (818) 981-7111
www.shermanoakshospital.com
Poison Information
Los Angeles Regional Drug & Poison Information Center
24-hour emergency information on poison contact including swallowing, eye or skin irritation, inhalation, animal or insect bites, food or drug reactions, and pet exposure.
Phone: 1-800-222-1222
www.calpoison.org
Utility Hotlines
Los Angeles Dept. of Water and Power
DWP 24-hour Hotline: 1-800-DIAL-DWP (1-800-342-5397)
www.ladwp.com
Southern California Gas Company
Emergency or Safety Issues: 800-427-2200
Residential Customers: 877-238-0092
www.socalgas.com
Animal Control
LA Animal Services
http://www.laanimalservices.com/
Los Angeles County Animal Care
http://animalcare.lacounty.gov
City of Los Angeles District F
our
Councilman
Councilman Tom LaBonge
Main Office
Los Angeles City Hall
200 N. Spring Street Room 480
Los Angeles, CA 90012
Phone: (213) 485-3337
Fax: (213) 624-7810
Hours: 9am-6pm
Email: tom.labonge@lacity.org
http://www.tomlabonge.com/
Jonathan Brand
Deputy Chief of Land-Use Planning
jonathan.brand@lacity.org
Information Corrections and Updates
Contact information and personnel change over time. If you find that something has changed, please email update information to: webmaster@laurelcanyon.org.
Back to the Top