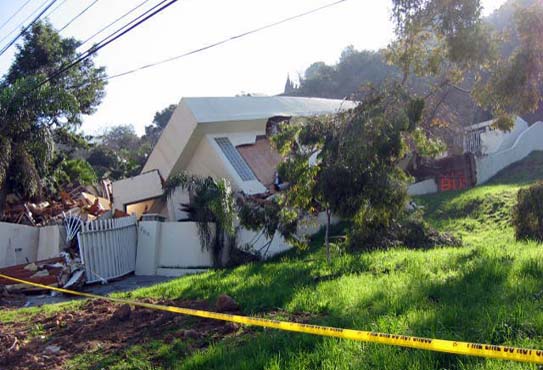 A home lost to the recent winter rain storms.
What To Do During Heavy Rain And Floods
City of Los Angeles Homeowners and Business Owners should call 311 or (866) 4-LACITY to report property damage, potholes, any storm-related damage or to request an inspection by the City of Los Angeles. For any situation that imminently endangers human life, please use
911.
Property owners are advised to contact their insurance agent to evaluate their personal coverage. A comprehensive list of insurance company hotlines appears at the bottom of this message. The Federal Emergency Management Agency (FEMA) has established a special Disaster Assistance hotline with information about public, private, and voluntary agency programs to help you recover from recent floods. For more information, please call: (800) 621-FEMA.Those in need of food, clothing or shelter can contact the Los Angeles Chapter of the American Red Cross at (213) 739-5200.Los Angeles County's 24/7 "Info Line" at (800) 339-6993 can also provide information at any hour on the local programs or community service organizations that might best meet your human service needs.
Watch out for animals, especially those that may have come into buildings with the flood waters. If you need assistance from the City's Department of Animal Services, call (888) 452-7381 or 311.
Though your home and its contents may look beyond hope, many of your belongings can be restored. If you do things right, your flooded home can be cleaned up, dried out, rebuilt, and reoccupied sooner than you think!
Play it safe. The dangers are not over when the water goes down. Your home's foundation may have been weakened, the electrical system may have shorted out, and floodwaters may have left behind things that could make you sick. When in doubt, throw it out. Don't risk injury or infection.
Ask for help. Many people can do a lot of the clean up and repairs necessary following a flood or winter storm. If you have technical questions or do not feel comfortable doing something, get professional assistance.
Floodproof. It is very likely that your home will be flooded again someday. You can save a lot of money by flood proofing as you repair and rebuild. - Here are "The Nine Steps" for Surviving a Flood:
Step 1. Take Care of Yourself First
Protect yourself and your family from stress, fatigue, and health hazards that follow a flood.
Step 2. Give Your Home First Aid
Once it is safe to go back in, protect your home and contents from further damage.
Step 3. Get Organized
Some things are not worth repairing and some things may be too complicated or expensive for you to do by yourself. A recovery plan can take these things into account and help you make the most of your time and money.
Step 4. Dry Out Your Home
Floodwaters damage materials, leave mud, silt and unknown contaminants, and promote the growth of mildew. You need to dry your home to reduce these hazards and the damage they cause.
Step 5. Restore the Utilities
The rest of your work will be much easier if you have heat, electricity, clean water, and sewage disposal.
Step 6. Clean Up
The walls, floors, closets, shelves, contents and any other flooded parts of your home should be thoroughly washed and disinfected.
Step 7. Check on Financial Assistance
Voluntary agencies, businesses, insurance, and government disaster programs can help you through recovery.
Step 8. Rebuild and Floodproof
Take your time to rebuild correctly and make improvements that will protect your building from damage by the next flood.
Step 9. Prepare for the Next Flood
Protect yourself from the next flood with flood insurance, a flood response plan, and community flood protection programs. This step also includes sources to go to for additional assistance.
What To Do After a Flood?
Seek necessary medical care at the nearest hospital or clinic. Contaminated flood waters lead to a greater possibility of infection. Severe injuries will require medical attention.
Help a neighbor who may require special assistance, especially infants, elderly people, and those with disabilities. People who care for them or who have large families may need additional assistance in emergency situations. Help your local Firefighters and Paramedics by being a good neighbor.
Avoid disaster areas. Your presence might hamper rescue and other emergency operations, and put you at further risk from the residual effects of floods, such as contaminated waters, crumbled roads, landslides, mudflows, and other hazards.
Visit the EDIS website at http://www.edis.ca.gov ... and listen to NOAA Weather Radio or local radio and television stations for emergency information. If evacuated, return home only when authorities indicate it is safe to do so. Flood dangers do not end when the water begins to recede; there may be flood-related hazards within your community, which you could hear about from local broadcasts.
Stay out of any building if flood waters remain around the building. Flood waters often undermine foundations, causing sinking, floors can crack or break and buildings can collapse. Avoid entering ANY building (home, business, or other) before local officials have said it is safe to do so. Buildings may have hidden damage that makes them unsafe. Gas leaks or electric or waterline damage can create additional problems.
Report broken utility lines to the appropriate authorities. Reporting potential hazards will get the utilities turned off as quickly as possible, preventing further hazard and injury. Check with your utility company now about where broken lines should be reported. Local phone numbers appear below.
Avoid smoking inside buildings. Smoking in confined areas can cause fires. When entering buildings, use extreme caution. Building damage may have occurred where you least expect it. Watch carefully every step you take. Wear sturdy shoes. The most common injury following a disaster? Cut feet! Use battery-powered lanterns or flashlights when examining buildings. Battery-powered lighting is the safest and easiest, preventing fire hazard for the user, occupants, and building.
Examine walls, floors, doors, staircases, and windows to make sure that the building is not in danger of collapsing. Inspect foundations for cracks or other damage. Cracks and damage to a foundation can render a building uninhabitable. When surveying your home, watch for loose plaster, drywall, and ceilings that could fall.
Look for fire hazards. There may be broken or leaking gas lines, flooded electrical circuits, or submerged furnaces or electrical appliances. Flammable or explosive materials may travel from upstream. Fire is the most frequent hazard following floods. Check for gas leaks. If you smell natural gas or hear a blowing or hissing noise, open a window and quickly leave the building. Turn off the gas at the outside main valve if you can and call the gas company from a neighbor's home. If you turn off the gas for any reason, a professional must turn it back on.
Look for electrical system damage. If you see sparks or broken or frayed wires, or if you smell burning insulation, turn off the electricity at the main fuse box or circuit breaker. If you have to step in water to get to the fuse box or circuit breaker, call an electrician first for advice. Electrical equipment should be checked and dried before being returned to service.
Check for sewage and waterline damage. If you suspect sewage lines are damaged, avoid using the toilets and call a plumber. If water pipes are damaged, contact the water company and avoid using water from the tap. You can obtain safe water from undamaged water heaters or by melting ice cubes.
Throw away food that has come in contact with flood waters. Some canned foods may be salvageable. If the cans are dented or damaged, throw them away. Food contaminated by flood waters can cause severe infections. If water is of questionable purity, treat it before you drink, cook or bathe with it. If in doubt, call your local public health authority or water provider. Ill health effects often occur when people drink water contaminated with bacteria and germs.
Pump out flooded basements gradually (about one-third of the water per day) to avoid structural damage. If the water is pumped completely in a short period of time, pressure from water-saturated soil on the outside could cause basement walls to collapse. Service damaged septic tanks, cesspools, pits, and leaching systems as soon as possible. Damaged sewage systems are health hazards.
Here are some utility service contact numbers for the City of Los Angeles:
Electric: (800) DIAL-DWP
Water: (800) DIAL-DWP
Natural Gas: (800) 427-2200
Sewer: (866) 44-SEWER
Of course, whenever you need live personal assistance for any City of Los Angeles non-emergency public service, you can always call 311. To learn more about our 311 system: http://www.lafd.org/311.htm
Don't forget to take pictures of any building or contents damage for insurance claims. Here are those Insurance Company information hotlines I promised earlier:
21st Century: 800-322-8200
Allstate: 800-547-8676
Allied Insurance: 800-282-9445
American Modern: 800-543-2644
Arrowhead/Clarendon: 800-453-8610
Auto Club of Southern Calif: 800-672-5246
California Casualty: 800-800-9410
California (Capital) Insurance Group: 800-986-9974
California Fair Plan Claims: 800-339-4099
Chubb Group: 800-252-4670
CSE Insurance Co Claims: 800-282-6848 option #3
Golden Eagle: 800-238-3085
Farmers: 800-435-7764
Fireman's Fund: 888-347-3428FIC
First American Specialty: 888-922-5344 or 800-348-3782
Foremost: 800-527-3907
Hartford: 800-243-5860
Liberty Mutual: 800-225-2467
Mercury: 888-313-6372
Metlife Home and Auto: 800-422-4272
Nationwide: 877-422-6800
Oregon Mutual: 800-934-3809
Progressive: 800-274-4499
Prudential: 800-437-3535
USAA: 800-531-8222
Safeco: 800-332-3226
State Farm: 800-732-5246
Traveler's: 800-252-4633
Please know that the men and women of the LAFD will be there when you need them. Rain or shine, prompt and capable emergency help is but a single 911 call away!
Respectfully Yours in Safety and Service,
Brian Humphrey
Firefighter/Specialist
Public Service Officer
Los Angeles Fire Department
E-Mail: beh9593@lafd.lacity.org
LAFD Website: http://www.lafd.org